The Virgin Mary, who served as the mother of Jesus on Earth, is known for her spiritual maturity. She inspires many people through her example of faith and trust in God. In art, Mother Mary is often portrayed as a fully grown woman. But how old was Mary when she had Jesus, really? Mary was actually a young teen when she gave birth to Jesus, historians believe. Just how young? Historians agree that Mary was most likely between 12 and 14 years old when Jesus was born.
As an adolescent, Mary said "yes" to a call from God with a purpose beyond what she ever could have imagined. Mary didn't let her youth stop her from boldly moving forward into the plans God had for her life. By learning Mary's story, you can discover how to respond well when God calls you to take action in your own life.
Background on Mary's Life and Calling
Mary grew up during the first century in a Jewish family that loved God. Her parents, Joachim and Anne, took Mary to a temple to dedicate her to God when she was 3 years old. They raised her in Galilee, which was then part of the ancient Roman Empire and is now part of the nation of Israel. Once she reached adolescence, Mary became engaged to be married, as was common in her culture at that time. She was already planning to wed Joseph, a devoutly faithful man, when God surprised her by sending the angel Gabriel to make an incredible announcement to her. Gabriel's visit to Mary has come to be known as the Annunciation, which simply means "the announcement."
Luke 1:28-38 describes what happened: "The angel went to her and said, 'Greetings, you who are highly favored! The Lord is with you.' Mary was greatly troubled at his words and wondered what kind of greeting this might be. But the angel said to her, 'Do not be afraid, Mary; you have found favor with God. You will conceive and give birth to a son, and you are to call him Jesus. He will be great and will be called the Son of the Most High. The Lord God will give him the throne of his father David, and he will reign over Jacob's descendants forever; his kingdom will never end.' 'How will this be,' Mary asked the angel, 'since I am a virgin?' The angel answered, 'The Holy Spirit will come on you, and the power of the Most High will overshadow you. So the holy one to be born will be called the Son of God. Even Elizabeth your relative is going to have a child in her old age, and she who was said to be unable to conceive is in her sixth month. For no word from God will ever fail.' 'I am the Lord's servant,' Mary answered. 'May your word to me be fulfilled.' Then the angel left her."
In Mary's culture, her age wasn't a problem, but her unwed pregnancy definitely was. Unwed mothers were often shamed, and sometimes even killed violently by stoning. Mary showed great courage by accepting God's calling. God protected her by sending an angel to visit Joseph in a dream to tell him what really happened. Joseph was so troubled by Mary's pregnancy that he intended to end their engagement in a way that was faithful to the law but did not expose Mary to public disgrace. "But after he had considered this, an angel of the Lord appeared to him in a dream and said, 'Joseph son of David, do not be afraid to take Mary home as your wife, because what is conceived in her is from the Holy Spirit. She will give birth to a son, and you are to give him the name Jesus, because he will save his people from their sins" (Matthew 1:20-21). After that dream, Joseph was confident in supporting Mary and also moving forward with God's calling on his own life.
Mary celebrated God's calling by singing this beautiful song, which is recorded in Luke 1:46-55: "And Mary said: 'My soul glorifies the Lord and my spirit rejoices in God my Savior, for he has been mindful of the humble state of his servant. From now on all generations will call me blessed, for the Mighty One has done great things for me – holy is his name. His mercy extends to those who fear him, from generation to generation. He has performed mighty deeds with his arm; he has scattered those who are proud in their inmost thoughts. He has brought down rulers from their thrones but has lifted up the humble. He has filled the hungry with good things but has sent the rich away empty. He has helped his servant Israel, remembering to be merciful to Abraham and his descendants forever, just as he promised our ancestors."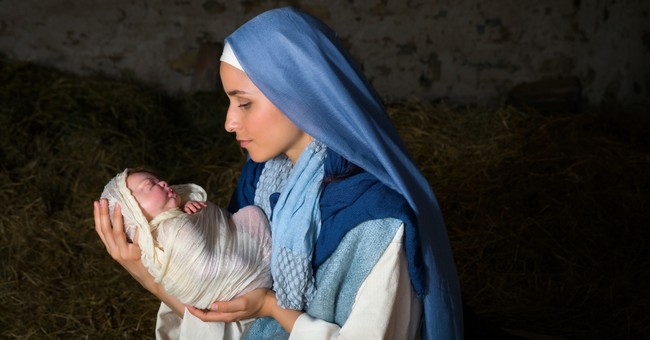 Photo Credit: ©Getty Images/Studio-Annika
How Old Was Mary When She Had Jesus?
So, exactly how old was Mary when she had Jesus? Historians place Mary's age in the range of 12 to 14 years old when Jesus was born. Mary was an adolescent, which in our culture today seems shockingly young to be a mother. However, in the culture that Mary lived in at that time, young motherhood was commonplace. Couples married and started families much earlier than they typically do today. So, Mary and the people in her life wouldn't consider it unusual to embark on marriage and motherhood as a young teen.
It may even have been an advantage for Mary to be so young when she learned of God's plan. Mary hadn't lost the wonder that many young people have but unfortunately lose as they grow older. Jesus encourages us all to pursue the sense of wonder that children are known for having. The curious mind and open heart of childlike wonder can strengthen our faith at any age. "Truly I tell you," Jesus says in Matthew 18:3, "unless you change and become like little children, you will never enter the kingdom of heaven." Mary's youth helped her choose awe for God rather than the cynicism that older people often struggle with in this fallen world.
At the same time, Mary's spiritual maturity was higher than her age suggests. God knew Mary's soul well, and in his wisdom, God chose Mary out of all other souls to be the human mother of the world's Savior. Mary was able to handle her calling well because she focused well on developing a strong faith.
What Does This Teach Us about Who God Calls?
Mary's beautiful example teaches us that God calls people of strong faith to accomplish wondrous purposes. Hebrews 11:1 explains the kind of faith that God is looking for: "Now faith is confidence in what we hope for and assurance about what we do not see." When Mary received God's call to serve as Jesus' human mother, she didn't see how that would work out, but she was confident in her hope that God would achieve something wonderful through that plan. Mary's strong faith helped her play an important role in God's work to save humanity. When God calls us, if we respond with strong faith, he will also accomplish something important through our own lives.